MORE INFORMATION
Many areas in Anchorage and the Mat-Su Valley have poor soil conditions. Large rocks on the hillsides, acidic peat in old bogs, gravel and sand with the absence of organics. All these can make for special planting. Samples, photos, and knowledge of your planting site is helpful knowledge to us if we are to install your trees properly. If necessary we can come out and inspect your site and maybe provide you with some planting tips.
With so many of our customers asking us to plant their trees, we have made a decision to offer a professional installation service with a seasonal warranty. We plant thousands of trees and are confident of our products and our planting practices. We do offer a planting package if you're doing your own planting, bagged planting medium, fertilizer, stakes and tie, and a coco disk for mulch, all of which make for a professional looking install.
If you're thinking about having us install your trees for you, schedule a LOCATE from your local utilities company.
Guarantees & Claims
Stressed or bad material should be reported to us within 48 hrs. Once material is in the hands of the customer it's their responsibility to care for it and plant it properly. Claims not made within this time frame will not be honored.
Seed-N-Tree Farms can not be responsible for material damaged by:
Improper installation
Planting in bad soils
Moose and other animal damage
Snow plow damage
Desiccation, sun scald, or winter kill
Wind or frost damage
Material damaged by ice melt compounds
Trees awaiting installation that are not healed in properly
Trees subject to insect damage with no spray program
Evergreens that have been damaged by winter wind burn or sunburn, but are still alive and popping buds
Trees should be sprayed at least once a year, as they are here at our farm, especially evergreens. Adopt a seasonal spray program to protect your investment.
Material Sourcing For Projects
If you have future projects requiring larger or unique material ask us about growing your material for a season or two.
We encourage coming out to pick up your order, if not we do have a delivery service.
Delivery Vehicle
Delivery Destination
Price
14 ft. Flatbed Truck
Anchorage, AK
$175.00
18 ft. Trailer
Up to 50 miles round-trip
$200.00
18 ft. Trailer
Anchorage, AK (or up to 100 miles round-trip)
$300.00
40 ft. Trailer
Up to 50 miles round-trip
$325.00
40 ft. Trailer
Anchorage, AK (or up to 100 miles round-trip)
$425.00
Equipment
Up to 50 miles round-trip
$225.00
Equipment
Anchorage, AK
$325.00
Long distance, use American Fast Freight or Sourdough Trucking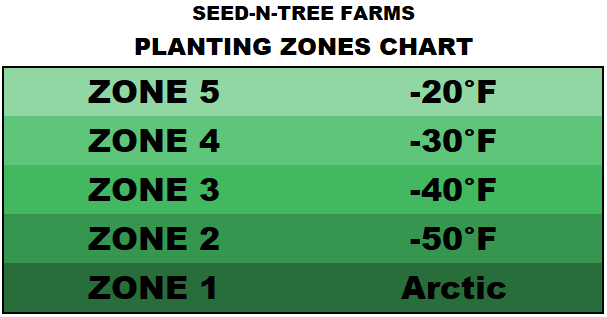 Payments
Payment is due at time of sale. We accept payment in the form of cash, check, and now also accept most major credit cards.
Unpaid invoices are subject to 1.8% monthly service charge and 18% annually.
Deposits
A 25% cash deposit along with a signed acknowledgement are required for all placed orders. We also require 25% down to hold material. Once material has been harvested and set aside in heal in, there can be no cancellation, deposits will not be returned.
Maintenance Charges
Spring orders must be picked up or delivered by June 30. After that, material stored here at our farm will be subject to a storage and watering fee of $10.00 per month for trees and $2.00 a month for shrubs.
Days and Hours of Operation
Seed-N-Tree Farms is a seasonal operation. Weather permitting, we usually are open in the first week of May and shut down in early October.
Our hours of operation are Monday – Friday from 9:00 AM – 5:00 PM, closed from 12:00 PM – 1:00 PM for lunch. As of July 22, we are open on Saturdays by appointment only.
We are closed on Sunday and observe all National holidays.
Pick up and Delivery Service
If you have the proper truck, or trailer, and a good solid tarp or enclosure to transport your material safely and securely, then we encourage you to come on out and haul your own material. We also offer delivery service. Rates can be found here. Please call for rates elsewhere.
Military Discounts 
We are proud to offer our people in service to or country a 10 % discount off any of our nursery products.
WE ARE PROUD TO BE A LOCALLY OWNED TREE FARM